Advantage Vapors
In Manahawkin
Electronic Cigarettes
E-Juices
Serving Manahawkin, Barnegat ,Bayshore area  all of Southern Ocean County
Call Today 609 597 3244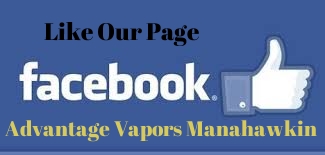 Vapor Shop and Electronic Cigarette's
817 Rt 9 North
Manahawkin, NJ 08050 —-
Just North of Southern Regional High School Next to SBR Tire Exchange
Advantage Vapors In Manahawkin, Barnegat, and Bayshore Area
Some Information about Electronic Cigarettes
Whether electronic cigarettes could be regarded as falling under Directive 93/42/EEC on medical devices depends on the claimed intended use and whether this intended use has a medical purpose. "It is for each national authority to decide, account being taken of all the characteristics of the product, whether it falls within the definition of a medicinal product by its function or presentation."
Among people in the United States, those who have ever used the product increased from 3.3% in 2011 to 6.8% in 2012. 10%  who have used electronic cigarettes or vapors  have never smoked. A 2013 UK survey by Action on Smoking and Health found that among non-smokers under 18, 1% reported having tried e-cigarettes "once or twice," 0% reported continuing use, and 0% intended to try them in the future.
If you're looking for the best e-juice, visit Advantage Vapors in Manahawkin, NJ  you'll find everything you need for refillable electronic cigarettes, including different variations of e juice so that all kinds of smokers have an option at a great price and with great versatility. High quality electronic cigarettes are often linked to the quality of E juice used. This is often as a result of the fact that an electronic cigarette can be measured by the E juice being used. The importance of the E juice to an electronic cigarette should never be underestimated. This is because when smoking an electronic cigarette you will be taking in the vapor which comes out of the E juice after it has been converted by the atomizer, all of these are included in an electronic cigarette kit. Now can you imagine holding this beautiful electronic cigarette and expect to experience that beautiful rich full flavor only to be chocked with some bad flavored vapor, this goes to show despite its beauty it is also necessary to ensure that you get high quality e liquid if you desire to take in smooth and well flavored e liquid.
Mainstream cigarette tobacco is derived from two main types of leaves. 'Burley' tobacco comes with 3.5 to 4 percent nicotine content and 'Virginia' tobacco has about 2.5 to 3 percent. Some cigarettes also come with blended tobacco and these could have as much as 10 percent of 'Oriental' tobacco which has less than 2 percent nicotine content. Additionally, cigarettes have fillers that are made using the by-products which result from the whole process of manufacturing cigarettes. The fillers comprise of by-products derived during the processing stage, various additives and flavorings, water, etc.
Applying flavoring in e-liquid tends to make electronic cigarettes taste greater to clients generally. This isn't implemented to make it plea sing to merely a specific generation. The intent of this is to be attractive to the buyer's aesthetics, instead of to his age. Nevertheless, these cigarettes are only made available to men and women who are of .
If you're ready to make that change and look at the different e cigarettes kits, visit the most affordable, reliable, and best cigarette store online, E-Cigarette510.com. At E-Cigarette, you can not only buy kits, but you can buy supplies like e juice and start figuring out what you like best. They stand behind their products, offering a 30 day money back satisfaction guarantee, so you'll only have everything to gain and won't have to worry about disappointments!
E cigarettes can be used anywhere eliminating passive smoking concerns and avoids the smoking ban. The cigarette, UK smokers' favorite choice, is also better for the environment with no cigarette butt ash to dispose of or smoke to pollute the air. The e cigarette is non-flammable and requires no lighter or flame therefore eliminating any fire hazard.
The nice thing about electronic cigarettes as connected to say, nicotine patches, is that the vapor cigarette production of the same tactile sensation and Oral Fixation, smokers' desire to satisfy their tobacco cravings as well. When you take a drag of the n electronic cigarette, you actually feel your lungs are filled with warm flavored tobacco smoke, and when you exhale the smoke from the waves of light as regular smoking, however, as already mentioned, that the smoke is actually much healthier than water vapor, which evaporates quickly, so as not to offend in the immediate vicinity.
Electronic cigarette sales increased from 50,000 in 2008 to 3.5 million in 2012. As of 2011, in the United States, one in five adults who smoke have tried electronic cigarettes. In the UK 11% of regular smokers were using electronic cigarettes in 2013 and 24% had used them in the past. 1% of non-smokers had tried them and 0% were currently using them.
Thanks, Yes, I am absolutely sold on e cigarettes. They benefit the user, the immediate environment and even the environment at large. When people stop smoking tobacco cigarettes and begin using electronic cigarettes, a HUGE amount of litter and pollution is eliminated!
Sites marketing electric cigarettes are told to tag their goods the right way and to ensure that they check their clients for IDs prior t selling the product. Companies who make these cigarettes have the capability to be sure of the ages of consumers who buy the goods via the internet. The typical age of consumers who purchase these devices is 44 and the general cost they pay for the product is around $100, which is certainly not a price children can manage to pay for.
In addition to the many health and financial benefits of Electronic Cigarettes, and the ability to use the E-Liquid Refill, there is much to be said for the fact that these smoking alternatives are environmentally friendly. The effective results coupled with its smoke free emittance, is great news to all who have family members that happen to be smokers. Additionally the E-Liquid Refill can be interchanged, allowing the smoker different choices for flavors.